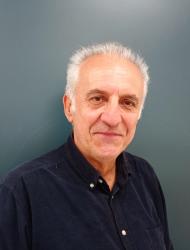 Professor, University of Crete
tselepidis@uoc.gr
+30 2810 394090
Short CV
Anastasios Tselepides is a Biological Oceanographer and a Professor at the Biology Department of the University of Crete.
For many years (2006-2022) he was a Professor at the Department of Maritime Studies of the University of Piraeus. Prior to that (1993-2006) he was a Senior Researcher and a Research Director, as well as the leader of the Oceanography Department of the Institute of Marine Biology of Crete (IMBC) that evolved into the Hellenic Centre for Marine Research in Crete (HCMR-Crete).
During the last 38 years he has been involved, either as a coordinator or senior partner, in a variety of research projects, many of which were funded by the EU. His main scientific interests are: research on deep-sea ecosystems, productivity of marine ecosystems, sustainable management of ocean resources, climate change and its impact on the marine environment, the influence of atmospheric depositions on ocean productivity, structure and function of oligotrophic ecosystems, pelagic-benthic coupling mechanisms, benthic community structure and diversity, development and deployment of benthic platforms.
He has published over 80 peer-reviewed papers (>6000 citations with an h' index of 41) and is or has been a member of several professional bodies, scientific and consultation committees. Most of his work has focused on the functioning of the ecosystem of the Mediterranean Sea but he has also worked in the Pacific, the Atlantic and the Arctic. He has been the Chief Scientist in many oceanographic expeditions and a pioneer in establishing deep-sea research in the E. Mediterranean.