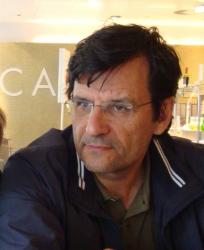 Affiliated Faculty
Associate Professor, Technical University of Crete
stiakaki@mred.tuc.gr
+30 28210 37648
Short CV
Dr E. Steiakakis acquired a Bachelor Degree in Geology from the Aristotle University of Thessaloniki and a MSc Degree in Engineering Geology from the Leeds University. He also holds a PhD in Engineering Geology from Technical University of Crete.
He is currently an Associate Professor at the Mineral Resources Engineering School of Technical University of Crete (TUC, Greece) where he teaches three geotechnical and one hydrogeology courses.
He has been a member of the examination committee of 5 PhD theses and he has supervised 7 MSc dissertations and more than 20 undergraduate students on their Diploma thesis.
He has served as leader or scientific associate in more than ten geotechnical and hydrogeological research projects, he is author of more than 70 refereed publications (journal and conferences papers) and he has served as reviewer for 6 international journals.
His main research interests are on the investigation of geohazard effects on constructions, the mining geotechnics, and the karst hydrogeology.