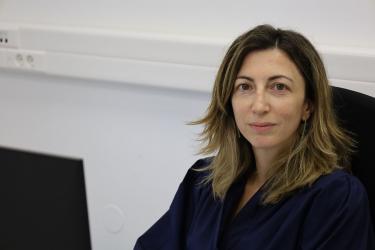 egontikaki@ipr.forth.gr
+30 2811392204
Short CV
Dr. Evina Gontikaki is Assistant Researcher (Researcher, grade C) at the Institute of GeoEnergy (IG) of the Foundation for Research and Technology – Hellas. She studied Biology at the Aristotle University of Thessaloniki, Greece, and received a M.Sc. in Oceanography from the University of Southampton – National Oceanography Centre, UK. She was then awarded a scholarship by the Marie Curie Early-Stage Training Network ECOSUMMER (FP6) to conduct her PhD in Biological Sciences at the University of Aberdeen, UK, and the Scottish Association for Marine Science, UK. Following her doctoral studies, she remained at the University of Aberdeen (2010-2017) as a Research Fellow funded by the Marine Alliance for Science and Technology Scotland (MASTS). In 2018, she returned to Greece holding an Individual Fellowship by the Hellenic Foundation for Research and Innovation (HFRI) and joined the group of Prof. Nicolas Kalogerakis at the School of Chemical and Environmental Engineering of the Technical University of Crete. She was appointed as Assistant Researcher at the Environment and Circular Economy Division of IG-FORTH in October 2021.
EG is interested in the structure and function of marine microbial communities, and their role in delivering vital ecosystem services, such as carbon and nutrient cycling, and in alleviating the adverse effects of anthropogenic pressures on marine ecosystems through the biodegradation of pollutants and climate mitigation (Blue Carbon). To that end, she is employing state-of-the-art techniques in biogeochemistry (stable isotope tracer experiments), molecular biology (amplicon sequencing, shotgun metagenomics) and microbiology. She is specialising in deep-sea ecosystems and, in recent years, has focused on the effect of hydrostatic pressure on the biodegradation of hydrocarbons by pelagic and benthic deep-sea microbial communities of the North Atlantic and the Eastern Mediterranean Sea.
RECENT PROJECTS
2022-2025 - "X-PRESS - EXtreme environments: High PRESsure Sampling and experimentation system for deep sea hydrocarbon releases" (Co-I). Funded HFRI.  
2018-2021 - "HEALMED - Determination of the self-healing capabilities of the Eastern Mediterranean Sea to accidental deep-sea oil releases" (PI), Technical University of Crete. Funded by HFRI.
SELECTED PUBLICATIONS
Antoniou E, Fragkou E, Charalampous G, Marinakis D, Kalogerakis N, Gontikaki E (2022) Emulating deep-sea bioremediation: Oil plume degradation by undisturbed deep-sea microbial communities using a high-pressure sampling and experimentation system. Energies 15(13), 4525.
Charalampous G, Fragkou E, Kormas KA, De Menezes AB, Polymenakou PN, Pasadakis N, Kalogerakis N, Antoniou E, Gontikaki E (2021) Comparison of Hydrocarbon-Degrading Consortia from Surface and Deep Waters of the Eastern Mediterranean Sea: Characterization and degradation potential. Energies 14(8), 2246
Perez-Calderon LJ*, Gontikaki E*, Potts LD, Shaw S, Gallego A, Anderson JA, Witte U (2018) Pressure and temperature effects on deep‐sea hydrocarbon-degrading microbial communities in subarctic sediments. MicrobiologyOpen 2018: e768 (*equal contribution authors)
Potts LD, Perez Calderon LJ, Gontikaki E, Keith L, Gubry-Rangin C, Anderson JA, Witte U (2018). Effect of spatial origin and hydrocarbon composition on bacterial consortia community structure and hydrocarbon biodegradation rates. FEMS Microbiology Ecology 94: fiy127.
Ferguson R, Gontikaki E, Anderson JA, Witte U (2017). The variable influence of dispersant on degradation of oil hydrocarbons in subarctic deep-sea sediments at low temperatures (0-5oC). Scientific Reports 7:2253
Links
https://www.forth.gr/13th-forth-retreat/_presentations/13th%20FORTH%20Retreat_Gontikaki_for%20pdf.pdf
WEBPAGES
https://www.facebook.com/deepseabiosphere
https://www.researchgate.net/profile/Evina_Gontikaki
https://www.linkedin.com/in/evina-gontikaki-b6103b5/