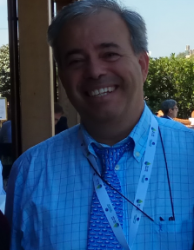 spyrosbellas@ipr.forth.gr
+30 2811392202
M1.010 Building Μ1 (MRED) Ground floor
Short CV
On July 2020, Spyros appointed the position of Principal Researcher at the Institute of GeoEnergy (IG) [former Institute of Petroleum Research (IPR)] of the Foundation for Technology & Research -Hellas (FORTH), based on the Technical University Campus of Chania, Crete Island, Greece.
Between October 2016 and June 2020, he held the position of Vice President (Upstream), Executive BoD, in the State Company Hellenic Hydrocarbons Resources Management S.A. (HHRM SA). Since 2011 he became a key player and team leader of the hydrocarbons Working Group (Ministry of Environment & Energy, Upstream: Hydrocarbons Directorate). He had been Member & Negotiator in various Evaluation Committees for Awarding Blocks for E&P Licensing (On- and Offshore), in Technical Advisory Cmtes., Member of, the Prinos Production Field Cmte., the South Kavala Underground Gas Storage Project Cmte., the Maritime Licensing Cmte. (MFA) and the Environmental Preservation Cmte. of Limin Keri (Zakynthos oil seeps & leakages), while he has initiated many SEIAs, in the framework required for future sustainable Exploration. He acts as the Oil & Gas Expert representative of Greece in the European Federation of Geologists (EFG).
Spyros was three times External Evaluator of the Greek Authority for the Evaluation of the Quality of the Higher Educational Institutes (HQA, evaluating Departments and Universities of Greece).
He owns the "C. Ktenas" Prize for the Natural Sciences of the Greek Academy of Sciences (2000).
He studied Geology at Patras University, Greece (1990) and holds his Ph.D. from the Freie Universtität Berlin, Germany (1997), studying bio-stratigraphy of deep-water foreland basin clastics and developing world-wide correlations (Eocene to Miocene age). DAAD and ERASMUS Scholar in Germany.
Between March 1997 and 2002 he held the position of Scientific Assistant where he lectured at the Geoscience Dept. of FU-Berlin and carried out research.
Between 2003 and 2010 he worked as senior geoscientist in QC at the Central Laboratory of Public Works, Geo-Engineering Dept. (Gen. Division for QC), Athens, while lecturing applied geology at various Universities: Free University of Berlin, Univ. of Aegean, Ioannina, Patras, Higher School of Pedagogical & Technological Education, Western Macedonia, Athens, Panteion, Piraeus.
Spyros has many publications in peer reviewed journals, and has given numerous talks while promoting the energy independency of the country together with the request for sources diversification of the EU and the safe storage issue coupled with the environmental protection (i.e. AAPG, ICE, EAGE, GSG, NAPE).
ORCHID iD: https://orcid.org/0000-0003-1845-3561
LinkedIn: https://www.linkedin.com/in/spyros-bellas-9175b082/
Research Gate: (3) Spyridon Bellas (researchgate.net)